The Daily Flash story begins sometime in early 1964 when bass guitarist/mandolin player and singer Don MacAllister (b. 1942, Seattle, Washington) ran into folk guitarist and singer Steve Lalor (b. Sept. 12, 1944, Glens Falls, New York) on the local folk scene. At the time MacAllister was playing in a bluegrass trio called The Willow Creek Ramblers while Lalor was mixing solo work with a couple of local pick up bands. Of the two, Lalor appears to have had the most impressive pedigree. Dropping out of college in Ohio in January 1963, he had travelled to San Francisco and briefly hung out with musicians who later formed the nucleus of Jefferson Airplane and The Quicksilver Messenger Service among others.

Lalor however, soon became disillusioned with the city's "hard, cold attitude" and decided to take an exploratory trip to Vancouver, stopping off in Seattle on route. Shortly after arriving, he noticed that the Seattle Center was organising an acoustic show and successfully auditioned as one of the performers. The show proved to be a great success and was subsequently turned into a weekly TV programme that ran for a year and a half, with Lalor appearing on every show. During this period, he ran into MacAllister on the local folk scene and the pair began to work together informally, learning songs by The Everly Brothers and The Beatles.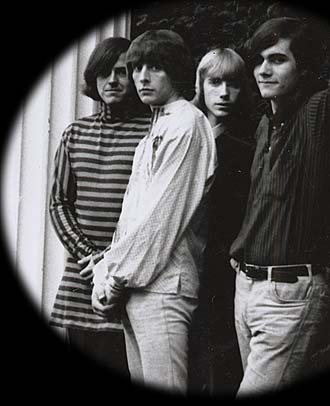 Pictured L to R: Steve Lalor, Don MacAllister,
Jon Keliehor, Doug Hastings.
Photo by Jini Dellacio.



In early 1964, however, Lalor returned to San Francisco and hooked up with the folk trio The Driftwood Singers, working as the house-band at the North Beach folk club, the Hungry I. The group, originally consisting of Alice Stuart and Mike Hall, worked together for over a year and recorded an extremely rare single for the Jerden label. (Folk singer Bill Roberts, author of 'Hey Joe', was a member of the group's final line up). Lalor's decision to abandon the outfit appears to have been due to MacAllister's sudden appearance in the city with an offer to form a group back in Seattle.

During Lalor's absence, MacAllister had continued to play with The Willow Creek Ramblers but recently had come across a brilliant drummer named Don Stevenson and the pair made loose arrangements to form a new band. As fate would have it though, the prospective group never materialised as Stevenson was suddenly drafted into local outfit The Frantics when that band's percussionist, classically-trained jazz drummer Jon Keliehor (b. Oct. 18, 1941, Lincoln, Nebraska) was involved in a serious road accident in Eugene, Oregon. (Stevenson and The Frantics' guitarist Jerry Miller incidentally, would later go on to form Moby Grape.)

Although Lalor was clearly disappointed not to meet Stevenson (MacAllister had raved about his singing and playing), the loss was easily compensated for by the musician MacAllister hired to replace him - Jon Keliehor, who apparently gave up a career with a symphony orchestra to join the new outfit. As Lalor later admitted to Seattle rock journalist, Neil Skok, the decision to bring in Keliehor was a wise one as he "was the secret magic ingredient that makes groups happen", and what's more "knew music better than the rest of us and was game to try anything..."

Following Keliehor's recruitment, the best part of mid-late 1965 was spent looking for a suitable guitar player who would be willing (and able) to play the diversity of material and musical styles that Lalor and MacAllister envisaged for the group. The band didn't have to look far, as MacAllister had already spotted Doug Hastings (b. June 21, 1946, Los Angeles, California) sitting in with local group The Dynamics on a number of occasions. "We looked around for guitar players and decided that Doug Hastings was the guy whose ear was most receptive. He was still in college and was very much into The Dynamics. [He] seemed to fit the mould real well, he was willing to learn new directions… and he sure got them with us," notes Lalor.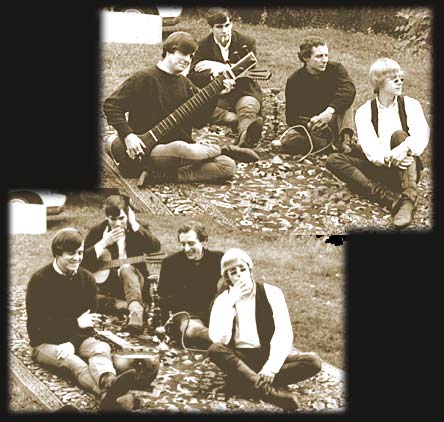 The newly formed outfit quickly made an impact, building a steady following on the local scene and attracting a great deal of media attention. As Steve Lalor fondly remembers: "We spent a lot of our early days putting up posters for non-existent gigs… we were being talked about in the papers before we'd even played a gig, being mentioned as the alternative group!" According to Jon Keliehor, the group's sudden rise to local fame was due to the band's decision to break away from the "Seattle Sound" epitomised by groups like The Sonics and The Dynamics. "We were the first alternative music voice for the hippie movement in the area and set a new pattern that influenced so many musicians at the time. We broke from the teen movement and started playing outside high school venues, creating new alternative orientated audiences and venues. Our music was a unique fusion of folk, blues, pop and jazz, and Steve and Don's vocal combination was imitated by many who followed."

One of the earliest venues to play host to Seattle's exciting new group was the BFD club. Steve Lalor has distinct memories of the group "smoking" the place thanks to a unique PA system that the members carefully pieced together, and which fully exploited the Flash's unique three-part harmony. "The harmonies were coming over like a wall of sound. Seattle hadn't heard anything like it before," claims Lalor.



Around December 1965, the band was discovered playing at another local club, the Door, by Ron Saul, a local record distributor, who quickly secured the group a deal with Parrot Records. Although the band was clearly adept at playing a wide diversity of musical styles, Saul decided to focus on the band's folk leanings for a debut single. During the early months of 1966, The Daily Flash recorded a cover of Bob Dylan's 'Queen Jane Approximately', backed by Dino Valenti's 'Birdses', a song Lalor had picked up while playing on the San Francisco scene. However, as Lalor reveals, the group's cover of 'Birdses' didn't impress Saul and was subsequently shelved. "'Birdses' never made the cut as the b-side. Ron bankrolled the recording of 'Queen Jane Approximately' and 'Birdses'. Then he came back to us and said it was too nicely nice. He wanted something funkier to offset the harmonies on 'Queen Jane Approximately', so we went down to Tacoma and recorded at the same studio that The Wailers recorded at and did 'Jack of Diamonds'".



The single was given a spring '66 release in Seattle but died a quick death. The Daily Flash however, were not deterred and thanks to MacAllister's contacts, the group hooked up with Charlie Greene, at the time working as Sonny & Cher's manager. Greene was impressed enough to sign the group to his management alongside another promising outfit, The Buffalo Springfield, and invited the band to L.A. to take another stab at recording the single's a-side. The more powerful (and superior) version of 'Queen Jane Approximately' was laid down during the summer months, but only attracted a modicum of interest on its release.
Despite the lukewarm response, the group had started to earn a reputation as a solid live act. On the way down to L.A. to re-cut the a-side, the band had stopped off in San Francisco to play some dates at the Avalon Ballroom, where promoter Bill Graham billed the group as headliners. As Steve Lalor recalls: "It was two nights, a Friday and a Saturday in April and both nights featured The Daily Flash and The Rising Sons. Plus on the Friday night there was Big Brother & The Holding Company - without Janis - and on the Saturday night it was The Charlatans".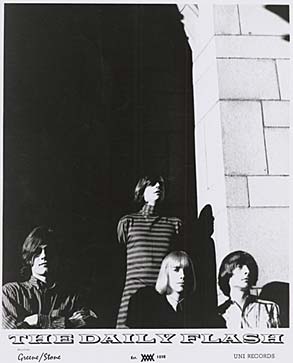 Photo by Jini Dellacio.
The shows were a modest success and throughout the autumn and winter of 1966, The Daily Flash picked up relatively steady work, playing on the California club and festival circuit. The band often returned to Seattle during this period, where it was welcomed as returning heroes and also on occasion ventured north into Canada. Keliehor has vivid memories of the band's appearance at the Vancouver Trips Festival, held on the weekend of 29-31 July. "Steve, Doug and I arrived at the festival in the morning. We weren't due to perform until 7 or 8pm. Quite suddenly a car arrived announcing that we were to be escorted to the seaside to spend the afternoon with various members of The Grateful Dead. I remember that The Dead's chief chemist Stanley Ousley drove the car that picked us up. Before any of us quite realised it, we had fallen not only under his spell, but also under the spell of his magic tablets. Soon afterwards we met other members of The Grateful Dead and the afternoon passed amiably.

"When we arrived at the performance, Don MacAllister was impatiently waiting for us back stage. Having had prior trouble with the police, he had slipped through Canadian immigration on false identification and was nervous about showing his face to a large unknown public. When it came time to perform, Doug, Steve and I were led on stage, accompanied by a friend name Larry, who played an unplugged bass and sang into an unplugged microphone. Don meanwhile stood behind a stage curtain with live microphone and bass in hand. His stoic personality and unaltered state of mind allowed the band to follow his lead as we sailed into one of our more liquid and undoubtedly ecstatic performances. Despite the name, this was perhaps the only time The Daily Flash used mind-altering substances during a performance. None of us can recall the exact details of the performance, but it was like a dream, fantastic in some way or other."

Back in L.A., The Daily Flash continued to pick up gigs, opening for many of the city's most respected acts such as The Turtles and up and coming band, Buffalo Springfield. During the first two weeks of September, the group also supported America's top folk-rock outfit, The Byrds (now trimmed down to a quarter following Gene Clark's departure), and its performance was captured on tape by engineer Wally Heider (who later did work with Crosby, Stills & Nash among others). The band's version of 'Queen Jane Approximately' later surfaced on The Daily Flash compilation album 'I Flash Daily' in 1985 (more about which later).
| | |
| --- | --- |
| Van Morrison + Daily Flash, Denver Colorado, Oct 13/14 1967 - Poster by Stanley Mouse | Daily Flash + Country Joe and The Fish, Avalon Ballroom - Oct 21/22 1966 - Poster artist unknown |
| | |
| --- | --- |
| Daily Flash + Quicksilver + Country Joe, Avalon Ballroom - Nov 18/19 1966 - Poster by Stanley Mouse | Grass Roots + Daily Flash + Sopwith Camel, Avalon Ballroom - July 1/2/3 - Poster artist unknown |
Although the group remained firmly based in L.A. (at one point the band's members were living at the famous Tropicana Motel where Van Morrison was resident at the time), The Daily Flash, arguably, was best received in San Francisco. Throughout the latter half of 1966, the band played at the Avalon Ballroom on numerous occasions (the venue's promoter Chet Helms was an early fan), working alongside the likes of Country Joe & The Fish and The Quicksilver Messenger Service. The diversity of styles - folk songs like Bob Dylan's 'It Takes A Lot To Laugh, It Takes A Train To Cry' and Eric Anderson's 'Violets Of Dawn', mixed with jazz numbers such as Herbie Hancock's 'Cantaloupe Island', Cannonball Adderly's 'Tengo Tango' and Gabor Szabo's 'Lady Gabor', immediately set the band apart from most of its contemporaries.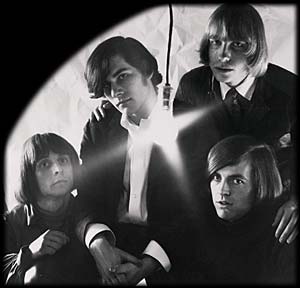 Photo by Jini Dellacio.
But as Lalor points out, despite this originality, the group's reliance on outside material was beginning to create tension between the members. "I think there was a kind of reservation about the fact that we didn't write our own music; it was kind of expected in those days and in The Daily Flash none of us were ever drawn towards being writers. Charlie would take folk songs that we had done and apply our names to it - he said that was the way things were done."
Although the band's debut single had met with only limited success, Greene was optimistic about the group's long-term fortunes. Early in the New Year, he arranged for the band to play its first dates on the East Coast and The Daily Flash was flown to New York to hold down a two-week residence at the Club Ondine in Manhattan. The group was well received and while in the Big Apple, joined The Jefferson Airplane for a performance at Stony Brook University. The New York dates also coincided with the release of the band's second single, a sprightly cover of Ian Tyson's 'French Girl' backed by David Van Ronk's 'Green Rocky Road', issued on the L.A. label, UNI Records.

The new single attracted quite a bit of interest in California, and shortly after returning from the New York trip, the band was offered a guest appearance in the popular TV series The Girl From U.N.C.L.E. The exposure from this show brought further work, and for a couple of months The Daily Flash held down a regular slot on the local L.A. teen show Boss City playing the hits of the day. Throughout the spring, the band continued to shuttle between L.A. and San Francisco working with visiting British dignitaries, Cream, and local outfits, The Quicksilver Messenger Service and The Steve Miller Band. At the end of March, the group made one of its most prestigious appearances at the "Gathering of The Tribes" concert, held at Elysian Park, in L.A. with local groups The Turtles and The Peanut Butter Conspiracy among others. The band also made regular visits back to Seattle and on one occasion joined The Seeds and Paul Revere & The Raiders to provide support for Pat O'Day at the city's Coliseum. (A photo of the band at this concert was later used on the back cover of the compilation album 'I Flash Daily'.)
However, despite its relatively high media exposure, the band was slowly coming apart at the seams. Shortly after a date opening for up and coming L.A. band The Doors at the Cheetah on Santa Monica Pier in Venice in mid-May, Hastings handed in his notice. As he explained to John Einarson in his book 'For What It's Worth - The Story of The Buffalo Springfield': "I began to grow weary of returning to Seattle for another victory tour when I knew we weren't succeeding in L.A."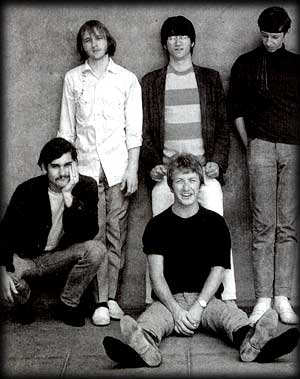 Buffalo Springfield (June 1967) with Doug Hastings on far left. picture courtesy of Gene Trindl.
Following a one-off date covering for Danny Weis in Iron Butterfly, Hastings was quickly poached by The Buffalo Springfield, who were anxious to fill the void left by the recently departed Neil Young. "I was at a loose end when I got the call to join the Springfield. It was just good timing; I was available and that's probably why they approached me. I already knew them and had hung out with them when their first album came out," says Doug. Hastings remained with The Buffalo Springfield until mid-August, contributing to a number of recordings including Richie Furay's 'Nobody's Fool' and the basic track of Steve Stills' 'Rock 'N' Roll Woman' (which has recently surfaced on The Buffalo Springfield box set). He also performed with the group at the June Monterey International Pop Festival, and his photo appears on the back cover of their final album.
The Daily Flash found an immediate replacement in guitarist Craig Tarwater, previously lead guitarist in local outfit The Sons of Adam, alongside future Love drummer Michael Stuart. "We knew him through moving to Hollywood, he was one of the musicians that just stood out. He was comfortable with himself and his guitar playing, plus I liked him a lot as a guy," notes Lalor. The personnel changes however, did not end there as a week or so after Hastings' departure, Keliehor was shown the door. As he recalls: "My last date took place in the first week of June in San Francisco. I was dismissed from the band because I wanted to take a weekend to learn transcendental meditation in Los Angeles, which happened to clash with a semi-important, last minute scheduled performance in Las Vegas. I opted for the meditation instruction and was given immediate notice by the others. The result of my dismissal meant that I was no longer subsidised by our managers. I had to give up my house on Amour Road at the top of Laurel Canyon and was taken in by my friend and former Kingsmen bass player Kerry Magness."

Following his dismissal from The Daily Flash, Keliehor began rehearsing with Pam Polland and Rick Stanley in a brief musical set up known as Gentle Soul. Also involved in this project were Magness and recently departed Iron Butterfly guitarist Danny Weis. According to Rick Stanley, The Gentle Soul's producer, Terry Melcher, initially hired the three musicians to back him and Polland once the duo's lone album was released. In the event, Keliehor never officially recorded with Gentle Soul, although a crude demo of one song was made and later rejected. It appears that either Terry or Pam felt that the new direction the project was taking was unwise.

At this point, Gentle Soul fell apart, and within a matter of weeks, Keliehor and Magness were invited to audition for Doors producer Paul Rothchild's new pet project, later to become Rhinoceros. Doug Hastings, who had been given the boot from The Buffalo Springfield by a returning Neil Young, was also approached, but Rothchild was not satisfied with the first tentative rehearsals and decide to postpone the auditions until the autumn after searching for more musicians. While Hastings spent most of the summer drifting, Keliehor was invited by Rothchild to attend the recording sessions for The Doors' second album. "I was invited by Rothchild, who lived a few streets away from me in Laurel Canyon, to attend the recording sessions for The Doors' 'Strange Days' album," says Keliehor. "I was merely an observer, but was suddenly employed during the session to turn on an organ pre-set in the middle of a song. Ray Manzarek didn't have quite enough fingers to manage it. I turned the switch at least 25 times, as the band went for take after take".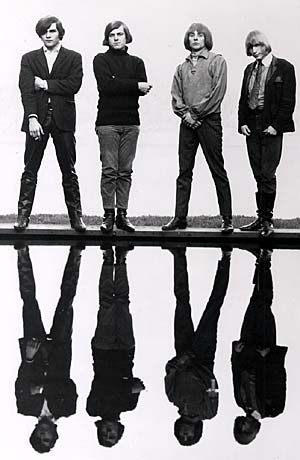 Photo by Jini Dellacio.
Although he never got to record with the band Keliehor became close friends with John Densmore and was later asked to cover for him at two Northwest dates at Seattle's Eagles Auditorium and the Gill Coliseum at Oregon State University, Corvallis in mid-November.

As Keliehor points out, however, this was not the only opportunity knocking around in the autumn. "I also attracted the attention of David Crosby through several jam sessions and shared engagements with The Byrds, and was asked to record with them during a brief interval in which Michael Clarke left the group. It looked like my admission was imminent but Clarke's reappearance stopped the session."

In fact, not only did Keliehor attract peer respect from high profile musicians, he was also singled out by several promoters, including Bill Graham, entrepreneur of the Fillmore Auditorium in San Francisco. "[Bill] had indicated that he wanted to know of my availability should my involvement with the Flash ever come to an end," notes Keliehor. "Somehow my sense of shyness cast a spell on this encounter. I completely forgot about his suggestion, the folly of which Bill revealed to me at the Fillmore East, just before my departure for England at the end of 1970. 'Where have you been, he demanded? I tried to locate you for several groups, including a reformation of the Jefferson Airplane'. I was stunned that he had remembered me, and could only shrug my shoulders at his suggestion. It seemed as if I had come to a fork in the path of my destiny, and I hoped I had chosen the right one".

Back in the "summer of love", and with Keliehor out of the picture, The Daily Flash pushed on, recruiting Tarwater's former colleague from Northwest outfit, Hawk and The Randelas, Tony Dey on drums, and in early July made a prestigious return to the Avalon Ballroom supporting The Grass Roots. Shortly afterwards, the band embarked on a well-received tour of the Northwest with The Grateful Dead playing at the Eagles Auditorium and the Agradome/Dante's Inferno, Vancouver. The band's repertoire had by this point, begun to include the traditional number 'When I Was a Cowboy' (possibly lifted from Leadbelly) and a cover of The Youngbloods' 'Grizzily Bear'. More importantly, the group had also begun to incorporate some original numbers into the set list, such as 'Barbara Flowers' penned by Steve Lalor.

"'Barbara Flowers' referred to a woman we knew from our early days in Seattle called Barbara Gibson," claims Doug. "She was for a short while a Go Go Dancer at the BFD, a club that The Daily Flash played at several times. Barbara was by no means a Go Go girl at heart and was a close friend of mine, though not a sweetie of Steve Lalor's, and so he wrote that song about her. I never recorded that song, it was done with Craig Tarwater".

Returning briefly to Los Angeles to play some low-key dates, The Daily Flash embarked on another Northwest tour at the end of September/beginning of October. While performing at the Eagles Auditorium in early October, the band's set was captured by engineer Rick Chin and an extended version of Herbie Hancock's 'Cantaloupe Island' was later included on the 'I Flash Daily' album. As far as Steve Lalor is concerned, the group's second tour represented the band at its very best. "Everyone who came to see us was expecting to see a great group, and because of that we played like a great group." Following the Seattle dates, The Daily Flash set off on a brief tour supporting Van Morrison with appearances at the Family Dogg in Denver, and the Avalon Ballroom, San Francisco. The band however, had run its course and immediately after returning to L.A. in late October, the group split into two factions.

MacAllister and Tarwater immediately hooked up with ex-Dynamics drummer Ron Woods, and together with future Mothers of Invention guitarist Jeff Simmons and recently departed Iron Butterfly vocalist Darryl De Loach worked initially as Nirvana and then later as Two Guitars, Bass, Drums and Darryl. The quintet subsequently cut a rare single for Atlantic, and according to Lalor provided the soundtrack to the cult 'B' movie 'Pit Stop'. Following the break up of Two Guitars, Bass, Drums and Darryl in mid-1968, Craig Tarwater joined The Other Half, replacing Randy Holden. MacAllister meanwhile moved into session work (appearing on Jackie De Shannon's 'Laurel Canyon' album alongside Craig Tarwater), and then briefly worked with Barry Goldberg. Later that year, he was invited to join Bob Dylan on a short tour, playing mandolin. Ron Woods also briefly hooked up with Barry Goldberg, and both he and MacAllister appeared on Goldberg's excellent 'Reunion' album. Woods subsequently went on to play sessions for Buddy Miles and can be heard on his album 'Expressway To Your Skull'.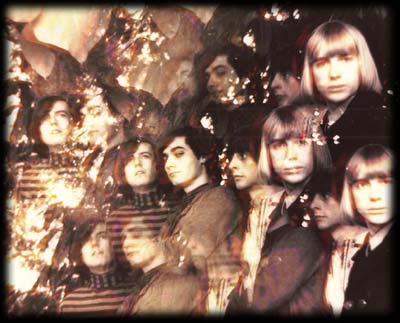 Photo by Jini Dellacio.
The Daily Flash story might well have ended there, but as Steve Lalor recalls: "When Tony and I left, some more Seattle dates became available, so we contacted Tony's brother Rick and Doug Hastings, who was at a loose end, and did one last time around Seattle and Portland." The final Daily Flash tour commenced at Seattle's Hub Ballroom on November 17 and concluded six days later at the University of Washington. The tour appears to have provided a handy stopgap, providing money to carry members over until more lasting projects could be realised. For some, the immediate future held a number of possibilities. Hastings, who as mentioned earlier, had spent most of the autumn drifting (he did briefly rehearse with Clear Light, but nothing came of it), had already been earmarked for Paul Rothchild's new project.

In fact Rothchild had reconvened auditions at his house while Hastings was out of the road with The Daily Flash. On November 19, he invited earlier attendees Keliehor and Magness to rejoin the rehearsals alongside new recruits such as former Jon and Lee and The Checkmates members John Finley and Peter Hodgson and ex-Iron Butterfly guitarist Danny Weis.

Keliehor has vivid memories of the Rhinoceros auditions. "Many individuals were assembled for several days of initial meetings and jam sessions. Paul announced that although the musicians present were hand-selected from the 'finest', he expected the group to compete, and to pare itself down to a manageable size. Kerry (Magness) and I left before the first rehearsal day had fully passed, deciding to look for more suitable colleagues for our next project. Contrary to publicity surrounding Rhinoceros, we weren't suddenly given the boot in favour of far more experienced and prestigious players. Our interest lay elsewhere."
Although Keliehor passed on the opportunity to join Rhinoceros, his involvement with the project didn't end there. During December 1967, both he and Doug Hastings were drafted into Elektra's studio on La Cienega in L.A. to provide instrumental support to David Ackles on his eponymous debut album, alongside future Rhino members Danny Weis, Michael Fonfara and Jerry Penrod. The sessions completed, Keliehor re-established his ties with Kerry Magness, then busy doing sessions for The Doors (his work can be heard on the album 'Waiting For The Sun'), and Eric Karl, another disgruntled Rhino attendee. Shortly afterwards, the trio moved north to San Francisco to establish a new band with Lalor.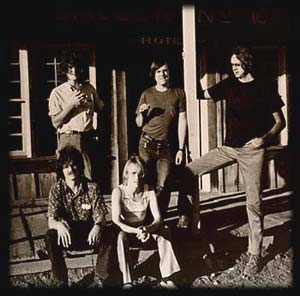 Bodine L to R, sitting: David Brooks, Jon Keliehor
standing: Eric Karl, Steve Lalor, Kerry Magness
In the aftermath of The Daily Flash's demise, Lalor had moved up north in search of new musical adventures. "After The Daily Flash's 'farewell tour', I headed for Frisco and made arrangements to use Matthew Katz's rehearsal space. I also began looking for players for a new project. Soon afterwards, I started playing with Art Penhollow, a drummer who had briefly jammed with The Sons of Champlin and David Brooks, a keyboard player I had met in an amplifier repair shop. The three of us hung out for a while and jammed. David and I then decided to take a trip to L.A. and visit Kerry and Jon, who were living around Highland Park, hanging around with Jackson Browne, Pam Polland and that crowd. At the time they were working with Paul Rothchild, auditioning for what would become Rhinoceros. Both were quite unhappy with the brutal culling process that Rhinoceros was going through and the competitive jungle of L.A. in general. They introduced me to Eric Karl, and we made some arrangements to get something together in the future. David and I then returned to San Francisco."

The new group soon began rehearsing under the name Popcorn. During December 1968, the band relocated to Seattle and embarked on a massive tour of the Northwest before moving down to L.A. in mid-1969 to record an album for MGM under the more progressive name, Bodine. Following the album's release, the band undertook another Northwest tour, but managerial problems led to the premature collapse of the band in December of that year. That same month, Keliehor appeared on Jeff Simmons' album 'Lucille Has Messed Up My Mind', issued on Frank Zappa's Straight label. (The record also features contributions from Craig Tarwater and Ron Woods.)
Around the same time, Don MacAllister and Doug Hastings (who had by this point left Rhinoceros and worked briefly with Pam Polland) reunited in Dr John's support band. During autumn 1969, they embarked on a short US tour, but according to Hastings, MacAllister was soon fired for "encouraging the good doctor's bad habits". "I remember walking in the Fifties in Manhattan with MacAllister the night he was fired," recalls Doug. "I remember we passed a club where Miles Davis was playing - we knew he was playing because his Ferrari GTO with bullet holes was parked outside. Don was really depressed. He felt that he had little to show for all his years in the business - he was 27 years old and couldn't see where he could go".

Returning to Los Angeles, MacAllister made plans to return to Seattle to see his old friend and former Willow Creek Ramblers member, Paul Gillingham, but overdosed a few days later. As Hastings reveals, "MacAllister's family strongly disapproved of his life and his friends and they retrieved the body and returned to bury him in Seattle, leaving no invitations for his friends." Having added guitar to a couple of tracks on Dr John's album 'Remedies', Hastings spent the next six months playing sessions for the likes of David Ackles and Bill Cowsill. He also hooked up with an old friend from the Seattle music scene, singer/songwriter Danny O'Keefe and ended up contributing guitar to his debut solo album. In June 1970, however, he turned his back on the music industry and returned to college to study geology, which subsequently led to a career in petroleum geology.

His erstwhile colleagues meanwhile maintained a profile of sorts. The Daily Flash's final drummer, Tony Dey, emerged in the band Cheese, formed with his brother Rick, former Country Joe & The Fish guitarist/vocalist Barry Melton and keyboard player and singer Jay Levy. The quartet recorded a lone album for CBS in 1972 as Melton, Levy & The Dey Brothers before splitting. Dey maintained a relatively low profile throughout the '70s and '80s doing various session work, and currently works in a music store in Sacramento. His brother Rick, like Don MacAllister, sadly died of an overdose.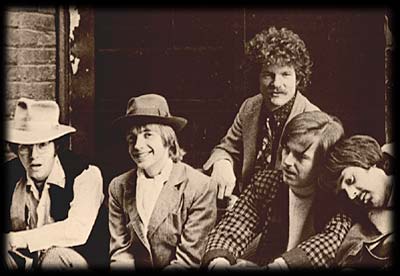 Bodine L to R: Eric Karl, Jon Keliehor, David Brooks,
Steve Lalor, Kerry Magness

Hastings' replacement, Craig Tarwater meanwhile, ended up joining Arthur Lee in his post-Love group, Band Aid. Lee's outfit subsequently recorded an album, issued in 1972 as Arthur Lee's 'Vindicator'. Tarwater continued to perform throughout the '70s doing copious sessions and currently lives in Walla Walla, Washington, where he owns a music store.

Following the break up of Bodine, Jon Keliehor remained in Los Angeles for a few months, during which time he played on a demo session for James Brown. But aside from this brief venture, he admits that he found few personal or musical contacts of any significance during these months. "After about five or six months of hanging round Los Angeles, I decided to travel for a while to put things into perspective and put my drums into storage. I spent a brief period of time in Boulder and New York, and in December I left the US for London. Soon afterwards, I met a Canadian pianist called John Lewis, who I recorded several BBC programmes with, as well as an album by Wavemaker called 'Where Are We Captain'. Through John I got introduced to members of the London Contemporary Dance Theatre and over the next fourteen years I ended up working with nearly every modern dance company in London."

Steve Lalor meanwhile returned to the folk circuit and played around southern California for several years. During 1971, however, he re-established ties with Danny O'Keefe, an old acquaintance from Seattle, who he had known since 1963 when the pair appeared on the local TV show Seattle Center Hootenanny. "I came up to Seattle to play with a duet named Bruce and Eli. When I heard Danny singing 'Goodtime Charlie' on a Seattle pop radio station I called him to ask if he had a band together. He told me he was doing just that and I said that he owed me an audition because I had helped him get some gigs together. I brought a piano player called Alex Richman into the group that I had worked with in L.A., and together with drummer Chet McCracklin and a bass player whose name escapes me, we embarked on a four-month tour with The Hollies and The Raspberries."

Jon Keliehor
Photo by Robin Constable.
While Steve Lalor returned to his roots, Jon Keliehor experimented as both a player and as a composer. "During my time in England my long-hidden compositional abilities emerged, and I ended up producing a huge catalogue of original music for contemporary dance, ballet, film, TV and theatre. I also created the Percussion Music Research Ensemble and the Luminous State Theatre, which explored ethnic music styles and fast changing rhythms. I guess it was early 'World Music'. I mixed drums, Indonesian gong tonalities, Chinese theatre instruments, western classical percussion, plastic sound toys and other obscure ethnic instruments to develop a multiple-image music style called Frozen Slices."

In 1984, Keliehor opted to return to the US and shortly afterwards met Peter Blecha, who helped Keliehor and Steve Lalor piece together a compilation of Daily Flash material. Through Bob Jeniker at Park Avenue Records in Seattle, the group's material was picked up by UK indie label, Psycho Records, which issued the album 'I Flash Daily' in March 1985. The compilation set brought together the group's two singles plus previously unreleased tracks spanning the group's two-year career. More recently, the US retro-label Sundazed re-issued The Daily Flash album with two previously unreleased bonus tracks: 'When I Was a Cowboy' and 'Grizzily Bear'. That same year, Doug Hastings, Steve Lalor and Jon Keliehor got together for a one-off reunion in Seattle playing at a book signing party for the 'Magic Decade' by Milo Johnstone. Interest in The Daily Flash has continued to grow since then and in 1996, Sundazed Records released a 45 rpm EP featuring the previously unavailable track 'The Diamond', erroneously credited on the sleeve as 'Jack of Diamonds'.

While Hastings continues to work in the petroleum geology industry in Alaska (he does however, still play guitar informally on a regular basis), his erstwhile colleagues from the original line-up have remained active on the music scene. Steve Lalor returned to the stage during the 1990s and was involved for a while with a pre-electric blues band performing material from the 1920s and 1930s. He has also recorded his first solo album, which features contributions from Keliehor, and made a guest appearance on an album by folk singer Kat Eggleston.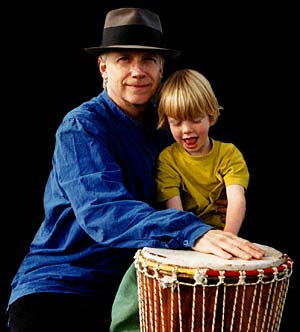 Jon Keliehor and Brendan (Summer 2001)
Having returned to Seattle in 1984, Jon Keliehor continued to sharpen his musical skills, and over the next 12 years collaborated internationally with dance companies in places as far flung as London, Caracas and Los Angeles. During this highly productive period, he worked with performance artist Lisa Lyon ("Lady" of Robert Mapplethorpe fame), poet James Broughton (with whom he recorded a version of the "Androgyne Journal"), and the contemporary music ensemble Gamelan Pacifica, directed by Jarrad Powell in his hometown, Seattle. He was also on the music faculty for dance at the city's Cornish College of Arts. Several recordings emerged during these years, including 'Islands In Between' for Touch Records, 'East Meets West' for Bruton Records and 'Ocean of Dreams' and 'Celestial Nile' for Luminous Music.

In 1996, Keliehor returned to the UK and currently resides in Glasgow where he continues to perform, compose and teach. Looking back on his days with The Daily Flash, he concludes: "We were an important band for Seattle, a unique experience for me, and part of a cultural movement that redefined the music of America. We turned a tide of awareness for many musicians, and their support was tremendous, inspiring us to be the very best that we could be."

For a band that only issued two rare 45s during its lifetime, the legacy of The Daily Flash is more far reaching. The group's unique musical abilities and choice of diverse material set it apart from many of its contemporaries, and the achievements of the individual band members since the band's demise, prove that Seattle's first alternative outfit was no "flash in the pan".

The Daily Flash reissued itself in August 2002. Personnel are:
Steve Lalor - vocals and multiple Martins
Barry Curtis - formally of The Kingsmen - vocals/guitar
Don Wilhelm - formally of Heart - bass/vocals
Steve Peterson - formally of The Kingsmen - percussion, mandolin, whistles
Check them out at their website: http://www.iflashdaily.com

---
Many thanks to Steve Lalor, Jon Keliehor and Doug Hastings for piecing this story together. I would also like to credit Neil Skok, who interviewed Steve Lalor in 1992 for the Ptolemaic Terrascope and to the magazine's editor Phil McMullen for letting me use some of the interview material in this article. Thanks also to John Einarson for additional interview material, to Greg Shaw for concert date information, and Rick Stanley for his recollections of Gentle Soul.
All photographs and images on this page courtesy of Jon Keliehor except where noted.
Many thanks to Jini Dellacio and Robin Constable for the use of their photographs.